In this post: tips for hosting fall guests to make your home as welcoming as possible with as little stress as possible.
October feels like the start of the holiday season, doesn't it? If you're like us, you're trying to plan ahead for all the November and December festivities. A big part of that is hosting fall guests! Whether you have visitors coming to the Phoenix valley to enjoy the perfect fall weather or family coming to stay for Thanksgiving weekend like we do, planning ahead and being organized keeps stress levels low and helps you enjoy your company more.
Have plenty of self-serve foods like granola bars, trail mix and chips plus crowd pleasers like "heat and eat" soup, crackers and cheese and sandwich fixings for pb&js or ham and cheese. You might bake and freeze things like banana bread or a casserole to heat on a whim. I always have a candy bowl on the counter with chocolate kisses or caramels and it ends up empty every night!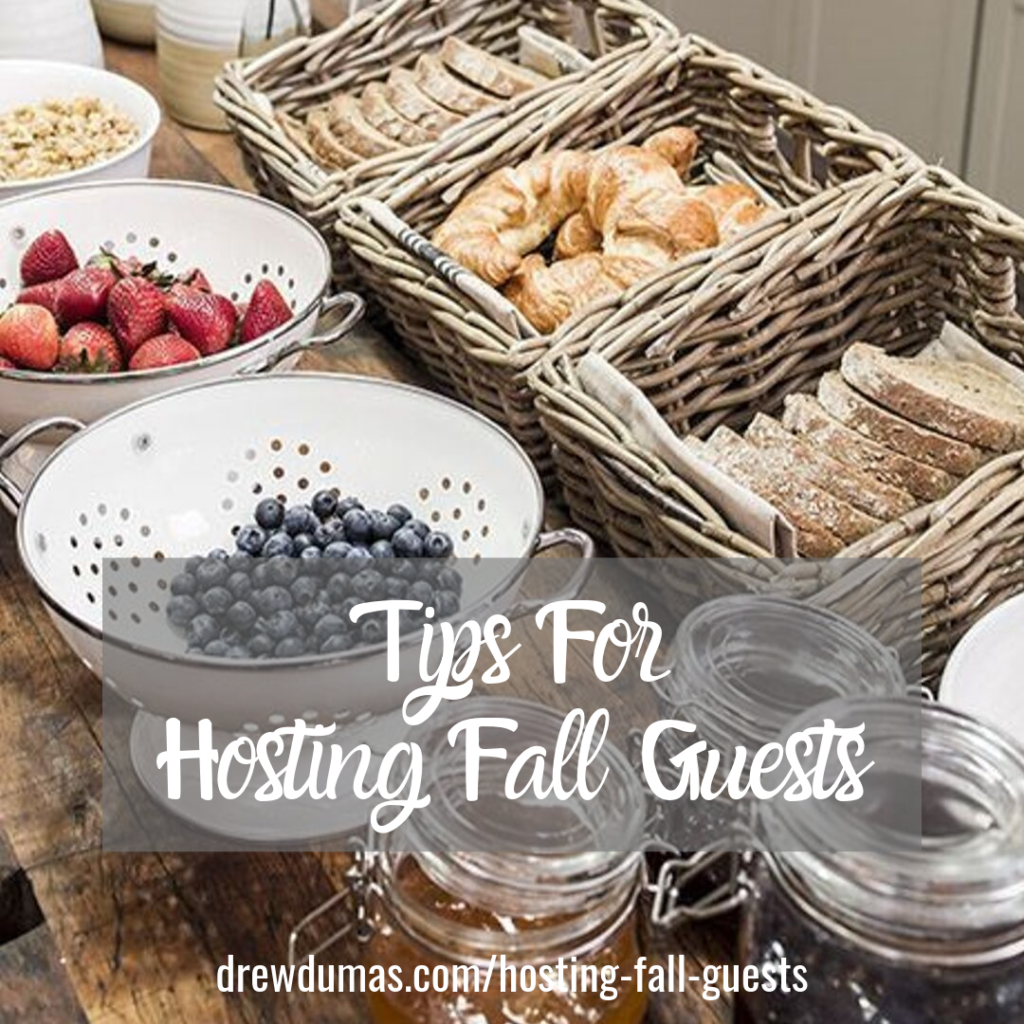 Set up a coffee and tea station. Keep coffee and tea selections accessible and have add-ins like honey and sugar out with it as well as mugs and spoons. Provide written instructions for your coffee maker or tea kettle if they require it. Having hot cocoa is nice for non coffee or tea drinkers and kids.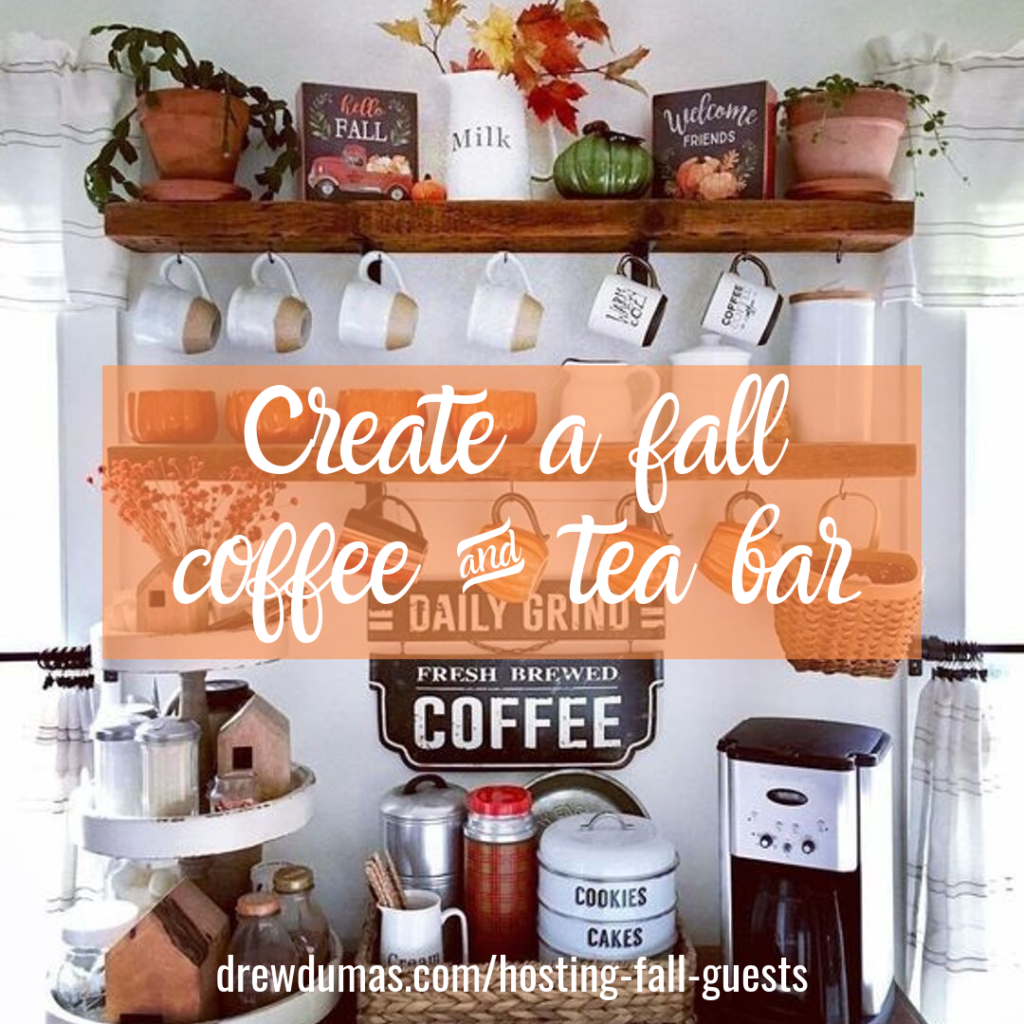 Make your kitchen user-friendly. You want your guests to be able to help themselves, and help you! Prep your serving dishes and utensils plus clean out the fridge and pantry. This year I'm going to have pretty labels on my cabinet fronts so people can easily find what they need without asking me where something is every ten seconds.
Cozify your guest bedroom. (Yes, cozify is a word) After scouring many blog posts on the topic, here are the items every guest room needs to be comfortable:
a comfortable bed (duh, but make sure the mattress is truly comfortable and the sheets are soft). White sheets feel the cleanest and most luxurious
a lamp for nighttime readers (and some reading selections are nice, too, especially if they're about local attractions or history)
wifi password and/or any alarm codes
tissues
extra pillows and blankets
water and snacks
a mirror (especially if guests are sharing a guest bathroom)
a hook for hanging a robe or towel
cleared off spots for jewelry, cosmetics, etc.
a suit case rack or space to store them
space in the closet + hangers and/or a few drawers
a candle is nice
extra toiletries (toothbrush, toothpaste, comb, soap, deodorant)
black out shades when possible
a spot in the bathroom for cosmetics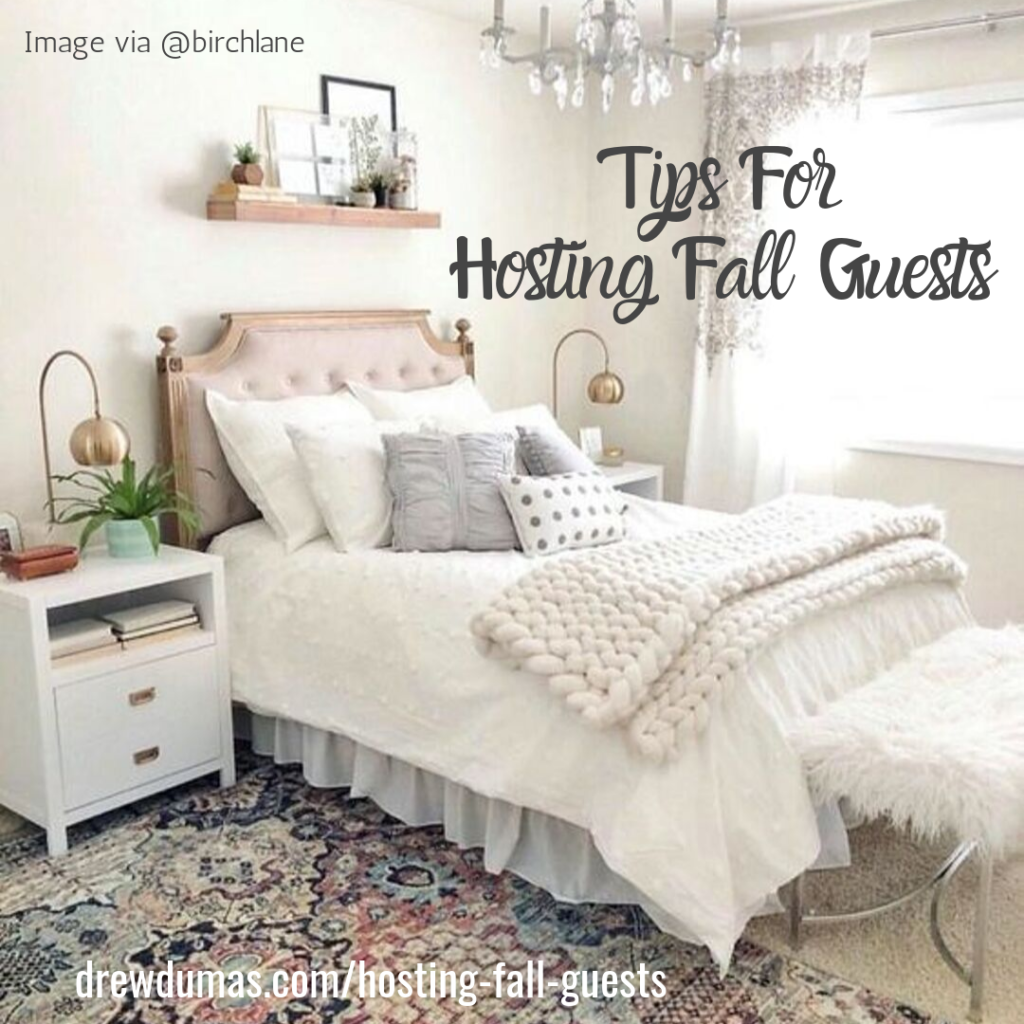 We also love the idea of a fall-themed tray in your guest bedroom! This one is by our friend Mary of Trayscapes Decor. You can find her on Instagram https://www.instagram.com/trayscapesdecor/ and Facebook https://www.facebook.com/trayscapesdecor/ . Let her help you customize the perfect tray and teach you how to use it for every season just by switching out a few items.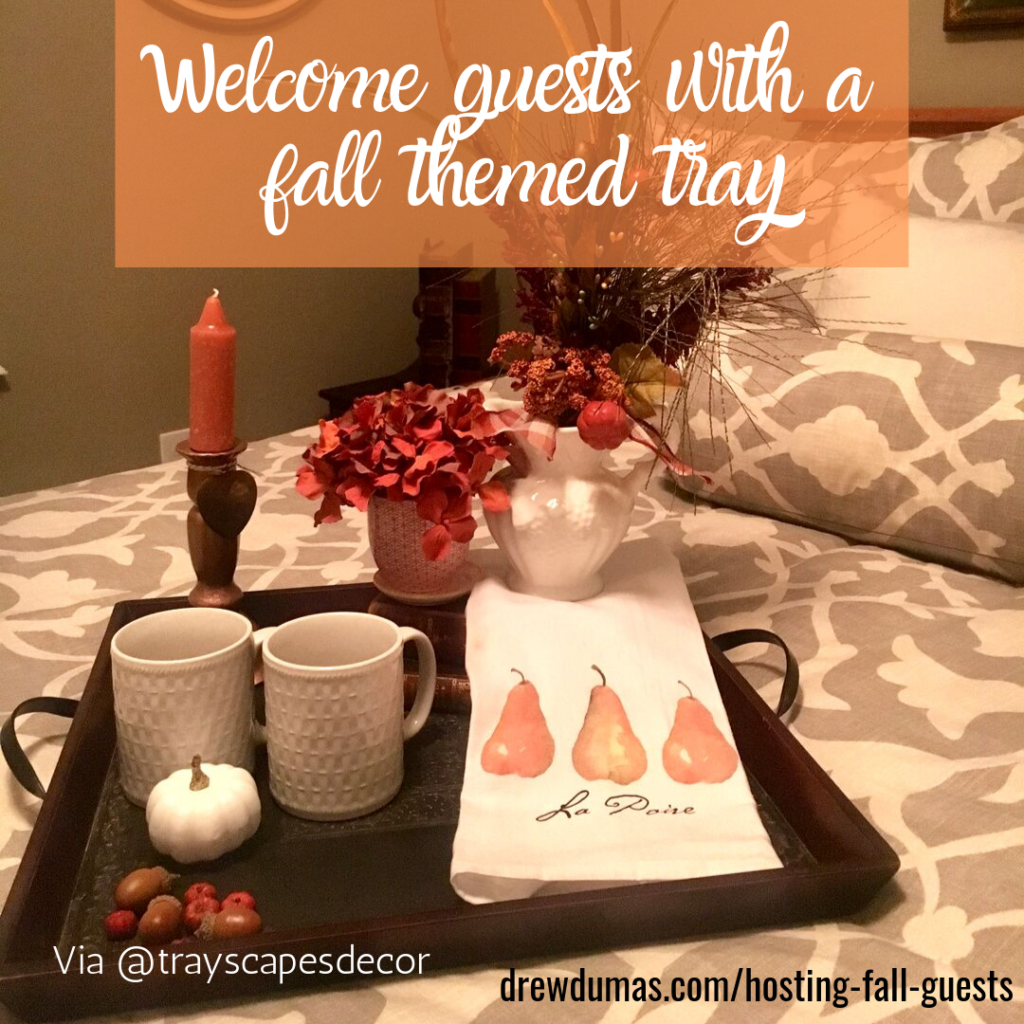 Spruce up your front porch. Mums and pumpkins are very fallish. Also, does your front door need a paint touch-up? Is your wreath looking worn out? Could you use a new front door mat? Small details make a big difference.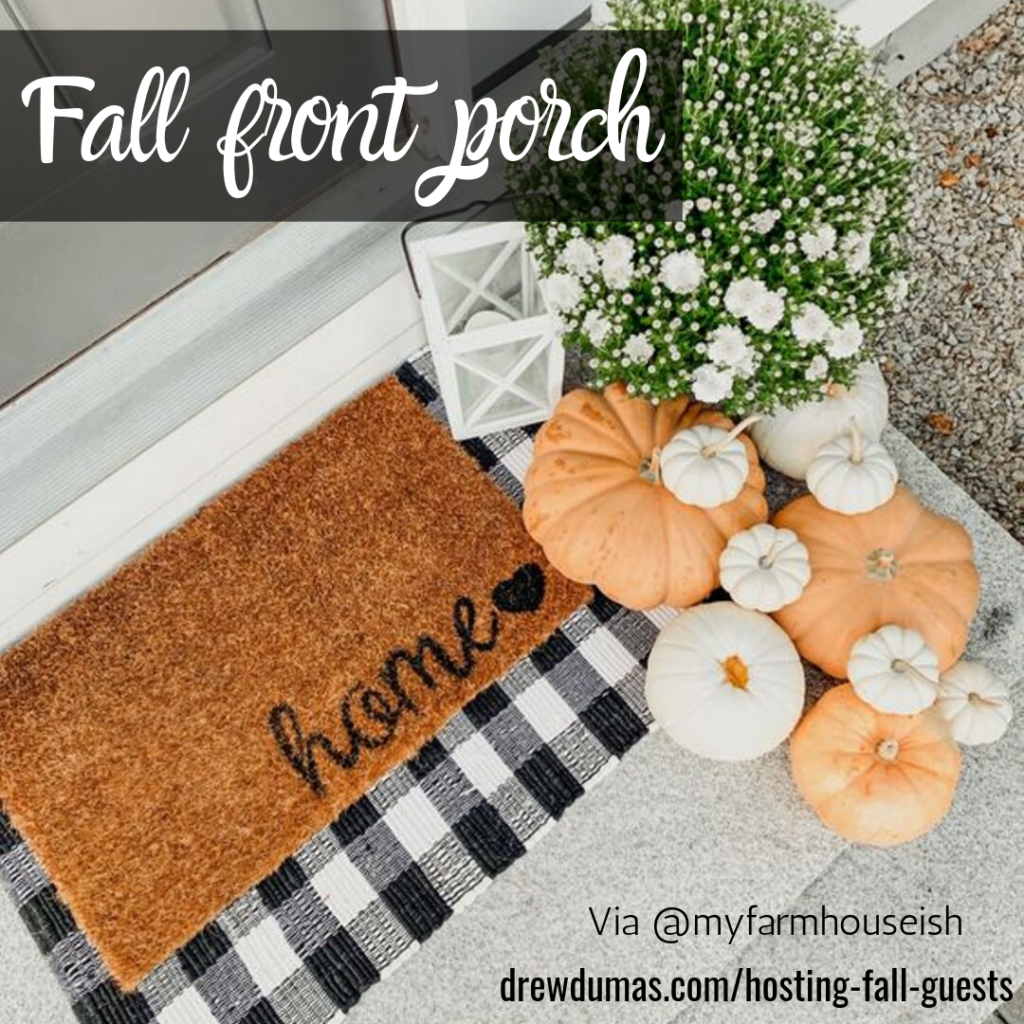 Keep an eye on your bathroom soap, toilet paper and towels. With a big crowd, items get used up fast and if you just have one hand towel, it can end up wet.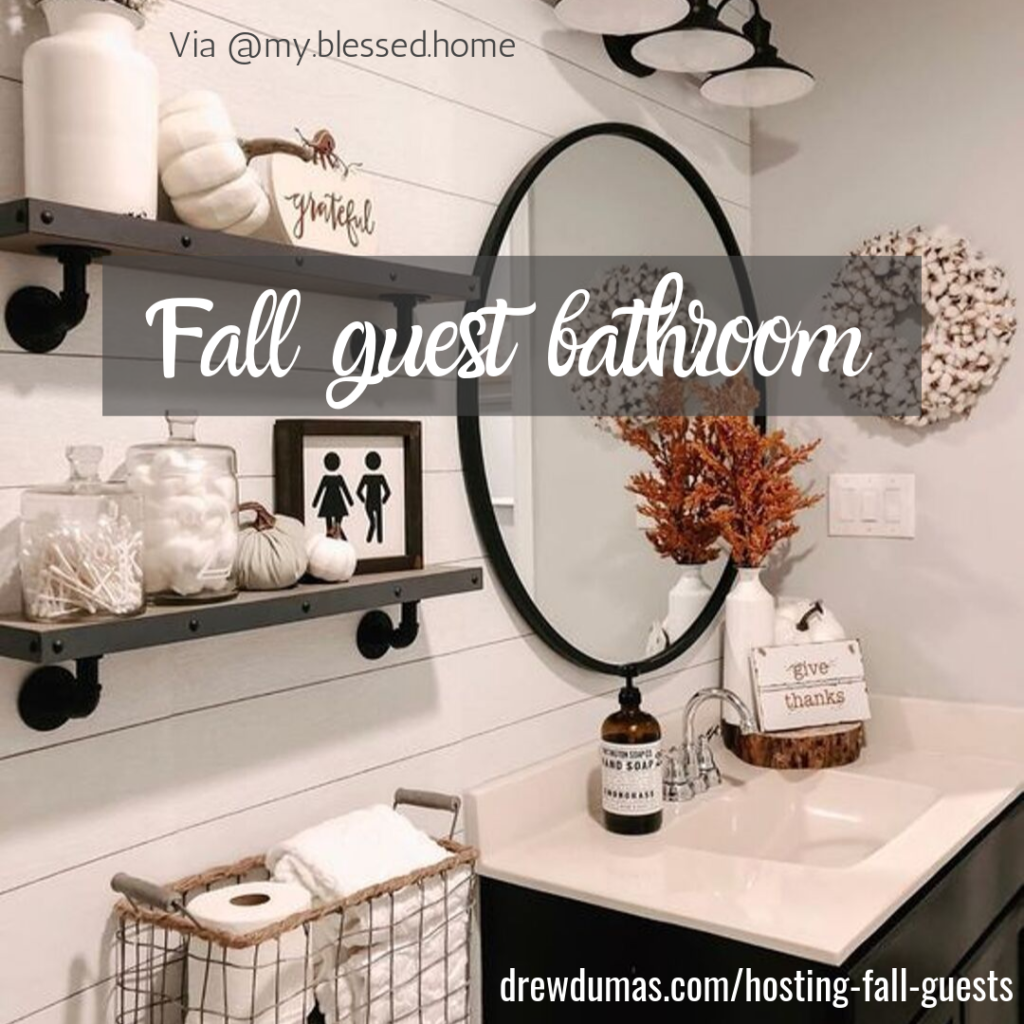 Prepare for kids. Have puzzles, coloring or craft supplies in a designated area so kids are occupied and not under foot. Have kid-friendly snacks available, too, for hungry teens or picky munchkins.
Pay attention to outdoor areas. Clean up your yard and back porch. You might even set up an additional sitting area in your back yard to accommodate overflow or just people who want to sip their coffee outside. If you have a fire pit, clean it up and make sure you have wood.
Hosting fall guests can be fun and enjoyable and we hope these tips help. Make sure you also check out http://drewdumas.com/welcome-fall-into-your-home/
What would you add to this list? We'd love to know how you've kept fall entertaining and fall hosting simple and enjoyable!